CALL US ON

0330 445 1111 (Local Rate)




OR


COMPLETE OUR ENQUIRY FORM
MORE CHOICE THAN ANY OTHER CATERER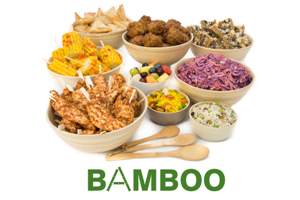 Our well loved buffet platters. Sandwiches, rolls, finger food, fruit, cakes, and more.
Click to order

Your Catering Experts
Are you looking for a professional caterer? Trust Jasper's. With more choice of buffet catering than any other UK caterer, Jasper's has something for everyone. Every branch of Jasper's Catering Services is run by local people who are passionate about food and service. All food is prepared in certified and fully insured premises. Every team member is trained in Jasper's, and national, food production and safety methods. Food quality and safety is paramount.
We understand that you need your catering when YOU need it, which is why your Jasper's delivery driver is trained in the art of punctuality. Your driver will always be uniformed and name-badged and will deliver your food in a Jasper's refrigerated vehicle.

We are professionals in everything we do but most importantly, our service is underwritten by the Jasper's Guarantee.

If you have any customer service questions please email customer@jaspersonline.co.uk with your company name and details and one of the Jasper's Catering Services team will contact you within 12 working hours.
A taste of Rio

Sunshine, carnival and sport, it's all happening in Rio! We've been inspired to create our own summer sizzler of a menu, full of Brazilian flavours, to take your tastebuds there.
Served in our beautiful Bamboo bowls, our menu has "Bauru" - traditional Brazilian roast beef rolls with mozzarella, tomato and pickled cucumber; the Rio Wrap with avocado, salsa, feta, refried beans and fresh coriander; potato salad with a Brazilian twist; tasty Hot and Cool Chicken Skewers and mini cinnamon and sugar-dusted doughnuts with chocolate sauce to finish.
Our 5 Brazilian Bowls menu is perfect for inspiring and delighting guests, customers, staff and friends. View the full menu here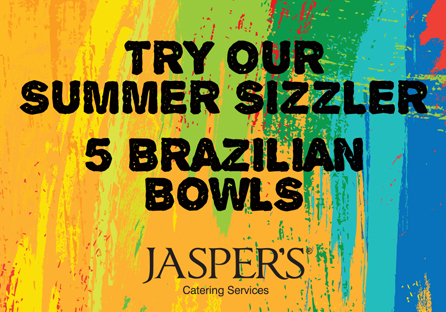 Time for a picnic
After the long grey winter, what better way to spoil staff and guests than with a Picnic lunch. The beauty of Jasper's Picnic catering is it is suitable for outdoors or in so there is no need to worry about the rain ruining your plans. The Jasper's Picnic catering range offers all your favourite picnic foods served in attractive windowed boxes that are easily transported, together with all the cutlery, plates and napkins you need. Perfect to share and enjoy in the office or out at an away day, tuck in to scotch eggs, mini pies, bitesize quiches, finger sandwiches, chicken drumsticks, scones, strawberries & cream and more. Go all out with the Picnic Deluxe or pack away a Mini Picnic, we have several different Picnic menus to choose from.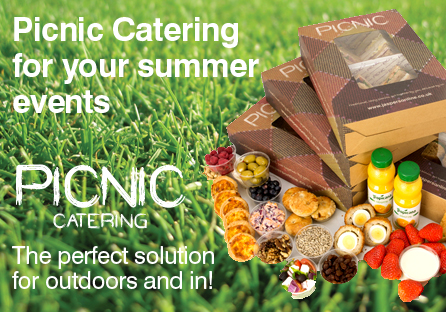 Snack well, work well!
Change your workplace forever with Snack Shack. 24 different snacking items available at your finger tips. Designed to boost energy & well-being and kick-out unhealthy snacking for good!
Snack Shack's fruits, seeds, nuts and berries contribute to a healthy diet.
Find out more about installing a Snack Shack in your workplace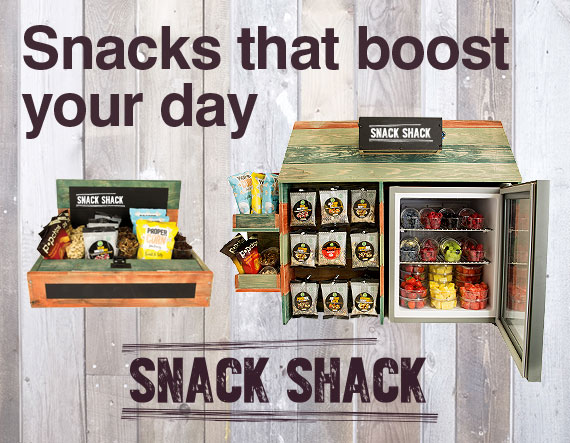 News
12 Aug, 2016 - How much do you really eat? Probably considerably more than you think! according to a new study which shows Britons are under-reporting their calorie intake.People that participated in the study consumed 1,000 calories more than they reported and which official statistics show. R
29 Jul, 2016 - Jasper's has created a Brazilian-inspired summer menu to tie in with the summer of sport in Rio. It features as a limited edition menu in the Bamboo range of contemporary buffet bowl food to share. The 5 Brazilian Bowls menu kicks off with Bauru which is a tradi