New bamboo platters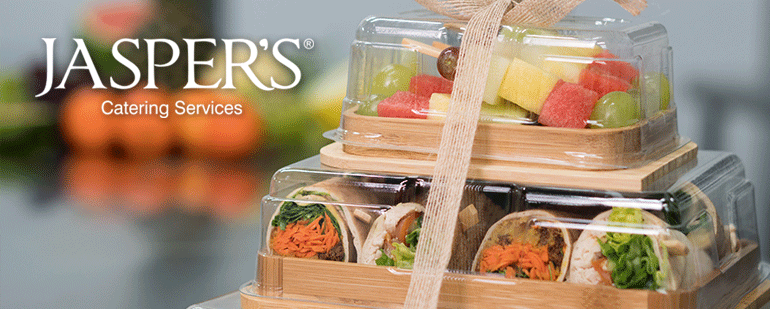 Jasper's has introduced stunning and sustainable new bamboo platters to better serve our customers and the planet.
We have undertaken months of research with our packaging supplier to find a more environmentally-friendly solution to present our buffet catering. We decided on bamboo which looks beautiful and contemporary, and is sturdy and resilient.
Most importantly, however, bamboo is a renewable resource with all of the following benefits:
Benefits of bamboo:
Sustainable: bamboo can be harvested in one to five years depending on the species. In comparison, hardwood trees such as oak take at least forty years before they can be harvested

Renewable: bamboo is labelled the fastest growing plant on earth and it does not require replanting. When harvested, it grows a new shoot due to its extensive root system. This helps protect soil from erosion

Organic: bamboo needs no agricultural chemicals to grow, or pesticides to protect it

Environmentally-friendly: bamboo produces 35% more oxygen than its equivalent size of trees. Large-scale bamboo plantations can become areas designed to reduce CO2 from the atmosphere

Fast-growing: bamboo grows almost everywhere and anywhere! It is a tough and durable plant, thriving even in harsh conditions: from low wetlands to mountains. With over 1000 species, bamboo can be found in nearly every region in the world

Economically-progressive: bamboo production and manufacturing provides job opportunities in less developed countries that need social and economic sustainability.
Our bamboo platter bases are now available to our customers. It has been an expensive process for us to introduce this innovation into our business, and the platters are expensive for us to purchase. We ask that all our customers play their part in supporting us and the planet that we all love, by returning every single bamboo platter for re-use. The same applies to our bamboo bowls and other packaging.
We do still have black plastic bases currently and our customers can continue to use these if preferred, but we are working to remove these from our business entirely by the end of 2020. Please return all these black platter bases to us for repurposing.
Thank you for your support.