Your Catering Experts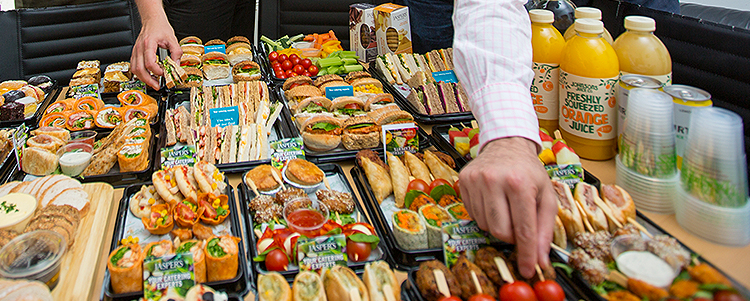 Jaspers is the UK's dedicated professional caterer. We have branches across the country, from Newcastle in the North to Bournemouth in the South.
We have more than 15 years' experience in providing the highest quality hospitality services and buffet food for office catering, business lunches and corporate events, whether these are regular meetings, training sessions, networking lunches or one off special occasions. With our classic buffet catering range we offer more finger food choices than any other caterer, and an extensive variety of traditional and contemporary fillings for sandwiches, wraps and rolls which change regularly so our customers don't get bored. All dietary requirements are catered for. We also offer satisfying self-serve hot food buffets with our very popular hot Taco and Burrito Bar; Curry Bar and Miso Broth Bar as well as classic hot favourites such as jacket potatoes, chilli con carne and meatballs with pasta.
For a different spin on your buffet catering, why not try our Tapas Buffets - mouthwatering hot and cold Spanish-inspired dishes that are perfect for sharing with colleagues and friends. Or our Bamboo Buffets - contemporary food to share presented in our custom Bamboo bowls. If you're on the go and want a feast for an away day or want to treat your guests to a picnic outside (or in!) our Picnic range is for you. Take a look at Our Menus to find out more.
All Jasper's buffet food is prepared fresh to order and made by local catering experts in our professional kitchens. We deliver to you in our own refrigerated vehicles. Our vans are signed and our staff uniformed, so you can be very confident in who is delivering to and entering your business premises.
We are Jasper's. You can't get our food and service anywhere else!
Premises
All of our premises are professional kitchens, designed by our own team to Jasper's standards and built to produce high quality, safe, tasty, fresh food for local people.
Ingredients
All of our suppliers have to go through a rigorous process to ensure their products are quality, fresh, tasty and sourced locally where possible. They must carry all the full insurances and quality standards required to guarantee quality products.
Packaging
All of our packaging is selected on the basis that it is food safe, can be recycled or is biodegradable. We collect all of your platters once you have finished with them and recycle them, so please don't throw them away!
People
Our people are the most important part of Jasper's and your experience of us. You should expect Jasper's people to be friendly, positive and enthusiastic about looking after you. Most importantly they will be fully trained to Jasper's and national standards.
Ordering
It is so easy to order with us. You can place your orders online 24 hours a day, 7 days a week. Order in advance or up to 2pm for next day delivery. Just contact us to register and one of our friendly team will call you right back to set up your own account. You can access all your orders and invoices online too, with your unique login.