Tips for Eating Well during Lockdown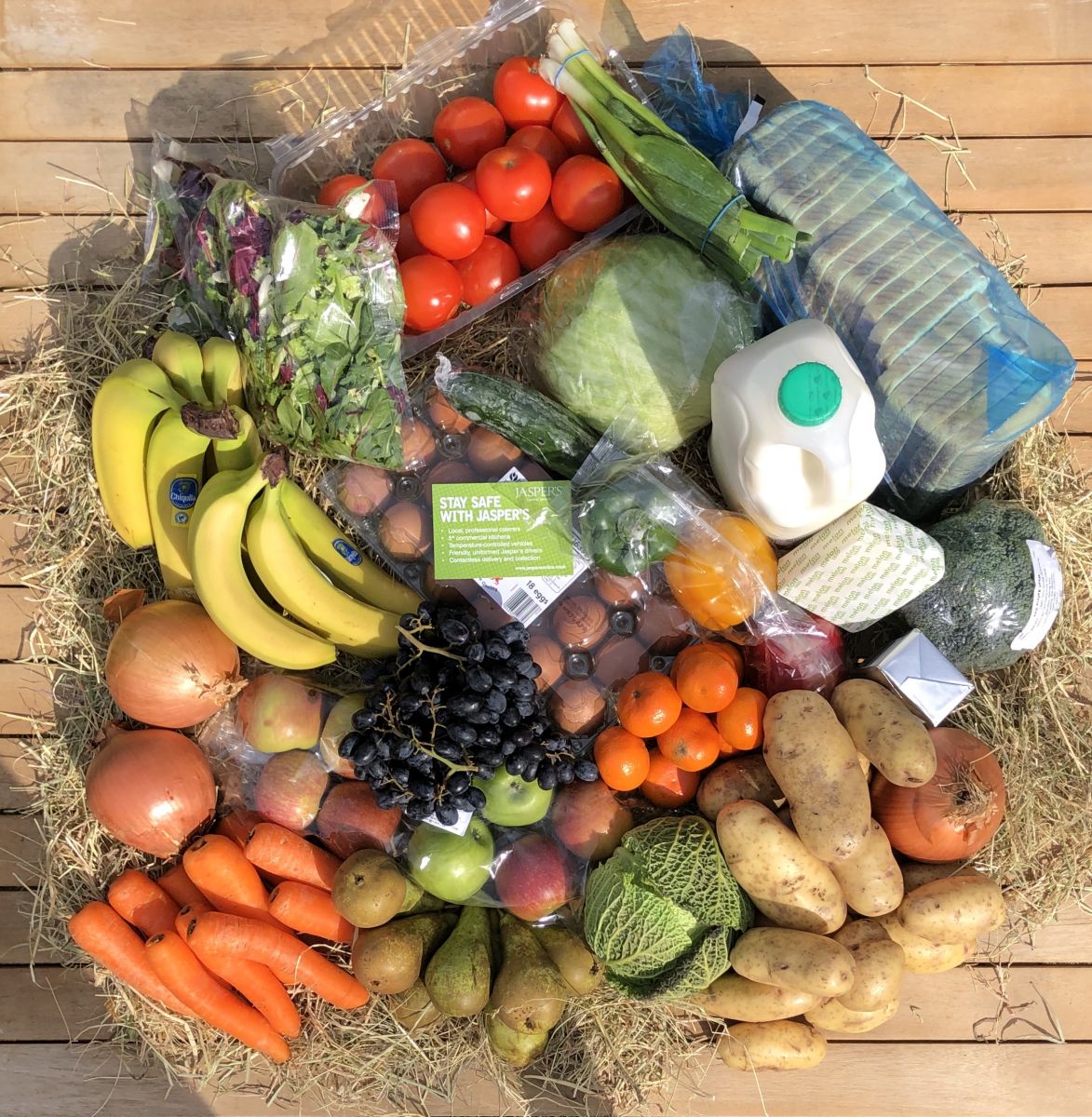 Jasper's is providing Combo Boxes of fresh groceries (pictured) to help those who need it most get food delivered safely each week, stay fed and healthy.
As well as staying safe, eating a healthy, nutrient-rich diet is the best way to look after yourself during this lockdown. Our immune system needs nutrients like vitamins A, D, E, and C, and minerals like zinc, selenium and iron, to function well —and these nutrients are best obtained from food rather than supplements. This lockdown is challenging for many reasons, including the impact on our diets:
We can't shop as often
We may not have access to the foods we want or usually eat
We're under stress which can lead to emotional eating
Our kids are at home and require a lot of food – often!
Our income may be limited
But this period is also offering up some opportunities to change old habits. Because we aren't able to eat out, get take-aways or shop on a whim, we need to prepare our own food, think about what we are going to eat more, and make the most of what we available. Here are some tips to eat well at home during this period – and beyond:
1. Simplicity is sweet
You don't have to over-complicate your meals. And indeed, it's not realistic to do so in these strange and strained conditions. Simple meals with simple ingredients - that provide carbs, protein, vitamins and minerals for the day - can be made relatively quickly and don't require a lot of preparation. For example:
Eggs, bacon and tomatoes for breakfast
Tinned tuna or salmon with salad and potato for lunch
Chicken or steak with veggies for dinner
2. Be flexible

You can let go of pre-conceived ideas about breakfast, lunch and dinner during this time. Maybe you start the day with brunch at 10am and skip lunch altogether, finishing with an early dinner. Or have a snack rather than a full meal.
3. Try something different
Recipe books gathering dust on a shelf? Now is the time to peruse them! We usually complain that we 'haven't got time' but that doesn't apply at the moment. There are so many recipes and meal ideas online too, the BBC Good Food website is a particularly rich source.
A good way to start is by looking at a couple of key ingredients you have in the fridge and cupboard – maybe it's potatoes and eggs – and then browse through what you can make with them – eg Spanish Tortilla!
Have a piece of cod that you need to eat before it's expiry date – focus on that – perhaps make it into a fish pie?
You can get all your fresh fruit, salad, vegetables and dairy products with a Jasper's Combo Box delivered to you each week, ensuring you pack in those much-needed nutrients. Starting with some key ingredients from the Combo Box, you can come up with a variety of meals and snacks. We have been sharing some of them on our social media page, including cakes, salads, curries, pies and sandwiches.
4. Use up the leftovers
If you have children at home, it can feel like you are spending the whole day preparing food and then cleaning up afterwards! It can be quite draining doing this and there are surely times when you don't feel like cooking. That's where leftovers come in. The leftovers of cottage pie for dinner can be eaten for lunch the next day. Or repurpose one of the leftover ingredients – make a little extra mash for your cottage pie - and plan to have that with sausages, peas and gravy for next day's dinner.
5. One pots are great
One-pot meal like stews, soups and chillis are great go-to dishes. Bung a bunch of ingredients together, put them in the pot (in the oven or slow cooker), and you've got dinner a couple of hours later. There are many excellent books and websites dedicated to one-pot cooking.
6. Make meals family time
Another opportunity to come from this lockdown due to Covid19 is making meals family team. Everyone still needs their own activities and space during the day – whether that's for play, home-school or work, but with the family staying in, it's great to bring everyone together at least for dinner, to share a meal.
Despite the many challenges, we can use the experience of this lockdown to get accustomed to eating well at home more, be more creative with food, and learn how to prepare simple, healthy, tasty meals.
For your weekly fresh shop delivered – contact customer@jaspersonline.co.uk